A big storm and earthquake hits your town. It's a certifiable quakenado.
Your house is spared structural damage, but the power and water are out. According to news reports, the grid is down in your area and several water mains are broken. Conservative estimates are that it will take crews at least a week to get water service back on.
Would you have enough water in your home for you and your family to last until the water came back? Or if you live in the southwest, would you have enough in a situation where your city just plain runs out of water?
How Much Water Do I Need?
The general rule of thumb is that you'll need one gallon of water per person per day. Half a gallon is used for drinking and the other half is used for hygiene. That number will go up depending on a whole host of factors. If you live in a hot climate or have pregnant or nursing women in your group, you'll want to store more water.
Alright, so a gallon a day per person is the general rule.
So the question becomes, how many days without water should you prep for?
Well that depends on how prepared you want to be for varying degrees of disaster.
FEMA recommends that everyone have enough water to last three days should your regular water source be disrupted. Three days of water should be enough to get you through the periods of water shut-off or contamination that can happen during natural disasters like earthquakes, tornadoes, and ice storms.
Three days is a good starting point, but even during run-of-the-mill disasters, water access can be down for much longer than that.
After spending hours reading prepper blogs and forums, it seems the general consensus is that you should have at least two weeks worth of water on hand. So for a single person, that's 14 gallons of water. For a family of four, that would mean you'd need 56 gallons of water.
Whether you decide to go above and beyond the two-week minimum is up to you. For lots of people, finding space in their home or apartment to store enough water for two weeks is a stretch, so trying to find room for a month might not be in the cards (though with a bit of creativity, you'd be surprised how you can arrange things in your house to make room for large amounts of water and food storage). Even if space isn't an issue, the upfront costs for long-term water storage can be prohibitively expensive.
My recommendation would be to start off with the two-week supply and slowly build up to larger amounts as space and money become available. Right now I have about a month's worth of water for my family. The funny/scary thing about prepping is that it can become a weird obsession. Once I filled my two 55-gallon barrels with water, I immediately wanted more. Now I'm shooting for a year supply. Have I turned into a crazy SHTF (Sh*t Hits The Fan) prepper? Just a touch. I better get busy burying 42 school buses underground….
Long-Term Water Storage Solutions
So you've decided to start building your emergency water supply. You'll need a safe container in which to store it. The general guideline is to use food-grade plastic bottles. You can also use glass bottles so long as they haven't stored non-food items. Stainless steel is another option, but you won't be able to treat your stored water with chlorine, as it corrodes steel. Finally, no matter what you store your water in, make sure you can seal it. You don't want any bacteria or other contamination mucking up your drinking water. Below, we highlight several water storage options.
Two-Week Water Storage Options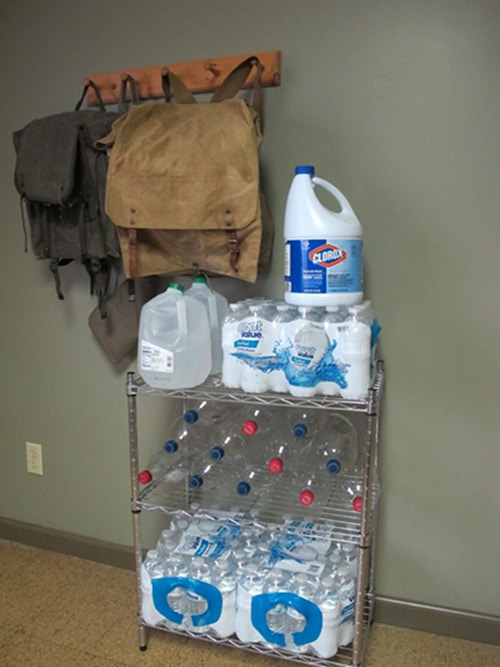 Store-Bought Bottled Water. The easiest (but slightly more expensive) way to reach your water storage quota is to simply buy pre-packaged bottled water. It's clean, well-sealed, and comes in food-grade plastic bottles. Moreover, bottled water is highly portable, which comes in handy if you need to bug out. This is a great option if you have limited space in your home or apartment. Just buy a bunch of packages and store them under beds. For example, one 35-count package of Poland Spring waterprovides about 4.6 gallons. That's enough water to last one person four days. If you want two weeks of water, you just need four packages.
Empty Soda/Water/Gatorade Bottles. If you're a cheap bastard, you can just refill empty soda/water/Gatorade bottles with water from your tap. Just make sure to thoroughly clean the bottles first, using this process.
5-7-Gallon Water Jugs. If you're a regular camper, you might already have a few of these in your garage. They're made from sturdy, food-grade plastic. The plastic is usually a dark blue which restricts light and helps prevent algae growth. I think the blue is also to remind you that "Hey! This is for water only!" The jugs are typically stackable, so they make for easy storage, even in the tightest of spaces. Their smallish size also makes for easy transport in case you need to leave your home base.
One Month or More Water Storage Options
waterBOB. If you've read The Road, you'll likely remember the scene where our protagonist begins to fill up a bathtub immediately after seeing flashes that signal an impending apocalypse outside his window. He knew the city water would be shutting off soon, and he wanted to store as much as he could before that happened. This is actually in my emergency plan if we ever encounter a SHTF moment here in Tulsa. While filling up a tub will give you 100 gallons of water, the problem is that it's not very sanitary for a couple of reasons. First, when was the last time you cleaned your tub? And if you did clean it recently, did you use harsh chemicals to do so? Either way, you probably don't want to drink water straight from it. Second, water in your tub has no covering so it's susceptible to all sorts of contamination.
That's where the waterBOB comes in. It's a giant, heavy-duty plastic bag that holds up to 100 gallons of water. Just place it in your bathtub and fill with water from your tub faucet. Boom! Instant sanitary water storage.
This is a good option for folks with limited space. Just bust it out whenever you think you'll need to use it. The downside is that when you think you need it, there might not be any water to fill it up.
Water Barrels. If you have the space and you're looking to have at least one month of water storage on hand, you can't go wrong with 55-gallon water barrels. They're made from sturdy food-grade plastic and have bungs at the top that can be sealed super tight in order to protect your water from contamination. The plastic is also BPA-free and UV-resistant. Two of these babies will give a family of four about 27 days worth of water. This is what I have right now for my water storage solution.
There are a few downsides. The first one is space. If you live in an apartment, you probably won't have room for a 55-gallon water barrel. The second is price. Each barrel will set you back about $90. You'll also need to buy a pump and a specialty drinking water hose to fill them up. Finally, they're not very portable. A full barrel weighs in at 440 lbs. You'll definitely want a more portable option available in case you need to bug out.